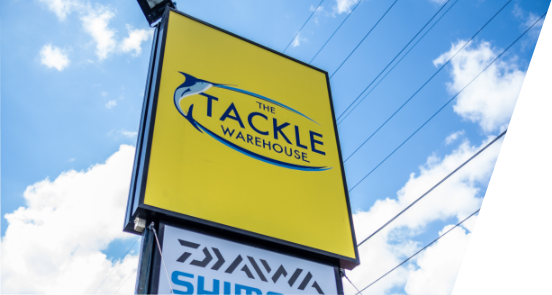 The Tackle Warehouse, a family
owned and operated business
was established in 1988.
Always there for the fishing community
A SEQ fishing institution for over twenty five years.
The Tackle Warehouse, a family owned and operated business was established in 1988. Our successful philosophy is to provide every customer with old-fashioned service and access to the greatest range of products.
Our sales staff are keen and seasoned anglers, each with a lifetime passion for this great sport. When you get to talk to them, it won't take you long to realise every aspect of their life revolves around fishing. Apart from fishing recreationally they also regularly enter tournaments, and write articles for numerous fishing magazines.
Although each staff member has a broad knowledge of various fishing methods and scenarios, they each have their own specialties in areas such as game fishing, impoundment Barramundi, tournament Bream and Bass fishing, land based game, fly fishing, deep water jigging and estuary lure casting, just to name a few.

A team of friendly, experienced locals
Experts in every style of fishing.
Our team live and breathe fishing, and take every opportunity to pass on their knowledge and passion for the sport to every one of our customers.
From throwing surface lures onto one of South-East Queensland's stunning freshwater impoundments to trolling for Spotted Mackeral off the coast of Mackay, the staff at The Tackle Warehouse know fishing inside and out. With an endless bank of experience to draw from, you can be assured that whatever level of fishing you are at, our friendly and knowledgeable team can help.
With a vast array of fishing gear in-store, the team at Tackle Warehouse have the dedication, skill and passion to give you the best advice on purchasing the right equipment for your needs.
Local knowledge can mean a huge difference to your fishing success, so we encourage our staff to get out and learn the spots and build their experience to pass onto our customers.